The human proclivity to classify coffee as rich, dark, light, bitter, smooth, also classifies religion: Judaism, Christianity, Islam, Hinduism, Buddhism, the list goes on. Moreover, within each of those denominations, we find factions: orthodox, modern, non-denominational, even inter-denominational.
We can look into the face of faith and discover many layers, giving it a depth that shows no end. With faith, not agenda, at the helm, the future of religion shows adaptability. 
The art of embracing people of many faiths is seen in the Chabad organization, which meets at 28 Walnut St. in Oneonta and is in the process of purchasing the First Baptist Church at 71 Chestnut St. 
First Baptist Church in Oneonta is continuing its mission locally and throughout the world i…
It is moving a few doors down from another Jewish organization, Temple Beth El, which is at 83 Chestnut. Chabad Co-Directors Rabbi Meir and Fraidy Rubashkin welcome interested minds no matter what their background.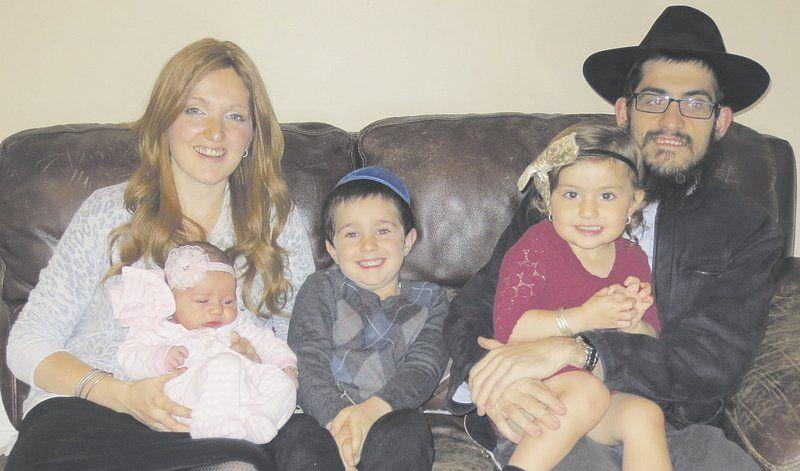 Husband and wife Rabbi Meir and Fraidy present an orthodox appearance; however, visitors find a respect for a diverse range of how Jewish laws are observed. 
"We don't cater to any group. We are all God-created, to be loved and cared for," the rabbi said. "The Chabad Center has a unique founding principle that all persons offer something good and that all can be leaders."
The local chapter of Chabad, an international organization, began nearly three years ago when the Rubashkin family moved to Oneonta from Brooklyn. Students have found family away from family at the Chabad Center. Accommodating the Jewish student population, Chabad Oneonta adjusts to the college schedule. 
The rabbi makes sure he is available. "The students know I'll open the door if they knock at 2 in the morning," Rubashkin said.
The students also know they can contact the couple through Facebook. "We use technology for good. We are not separate from the world but make the distinction between heaven and earth with the goal to infuse spirituality into earthliness," he said. 
Rubashkin, 28, came with a background in Yeshiva education, "It was discussion-style learning," he said. "As I got older, studies became intense and focused on the study of traditional religious texts, primarily the Talmud and Torah study."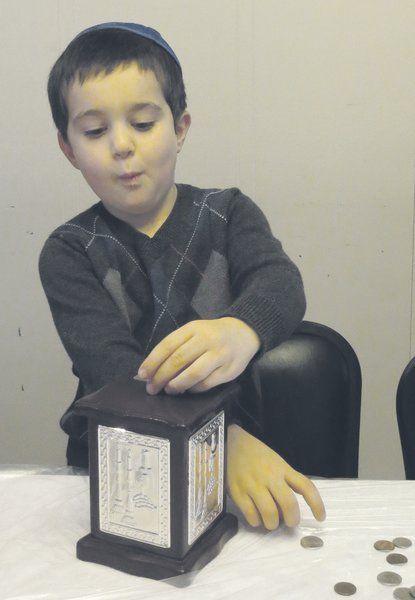 He grew up in the Midwest, attending rabbinical schooling in Canada and New Jersey.
"We have three young children and have fully invested ourselves in the center," Rabbi Rubashkin said. "The number of visitors to the center has grown so dramatically, it was natural to find and work with First Baptist Church members to purchase the historic building."
A Chazak newsletter is printed twice a year and information is found online at www.chabadoneonta.com highlighting a quote from Maimonides (Jewish philosopher, 1135 – 1204): "One good thought, one kind word, one good deed, can change the world."
The term "Chabad" covers a wide definition today, from a philosophy to an organization. In the mid-20th century, Menachem M. Schneerson, the 7th Lubavitcher Rebbe, turned Chabad into a dynamic and geographically diverse religious movement in Jewish life.
"We don't need to lessen our religious convictions in the modern world," the rabbi said. "We encourage participation in good deeds and observance of God's commandments."
When non-Jews think of Jewish traditions, Hanukkah comes to mind. But, "Hanukkah is a minor festivity," said Fraidy Rubashkin, who was raised in a home grounded in the Chabad philosophy. "Hanukkah is misunderstood because it falls near Christmas, which is an important holiday for Christians."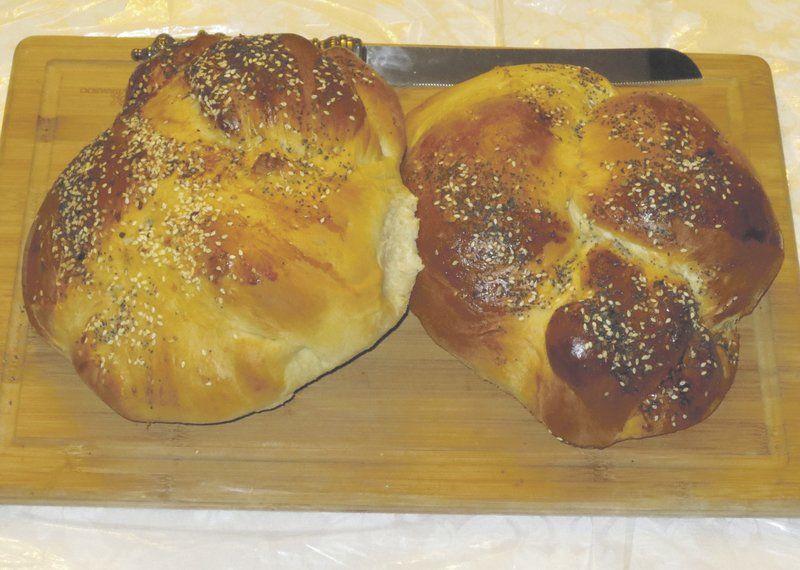 The major holy days on the Jewish Calendar are: the Sabbath, Rosh Hashanah (The Jewish New Year), Yom Kippur (The Day of Atonement), Passover, Shavuot (The Festival of Weeks) and Sukkot (The Festival of Booths).
According to the Jewish calendar, on the 25th day of the month Kislev, year 5775 (Dec. 16, 2014), Hanukkah begins. It commemorates the successful revolt by Jews during the Greco Roman period, more than 21 centuries ago. The Jews took back the Jerusalem temple. During the rededication, they found only a single cruse of oil to light the Menorah. Miraculously, the one-day supply of oil burned for eight days.
During Hanukkah, also termed Festival of Lights, celebrants light a single flame on the first night, two on the second, and so on until the eighth night when all eight lights are kindled.
"We give gifts to the children; however, Hanukkah is time for family," Fraidy said. "This year will be quiet because the college students will be home for winter break."
But in general, quiet the Chabad Center is not. Every Friday evening when school is in session, Shabbos (Sabbath) dinner is served to an average of 87 students per night.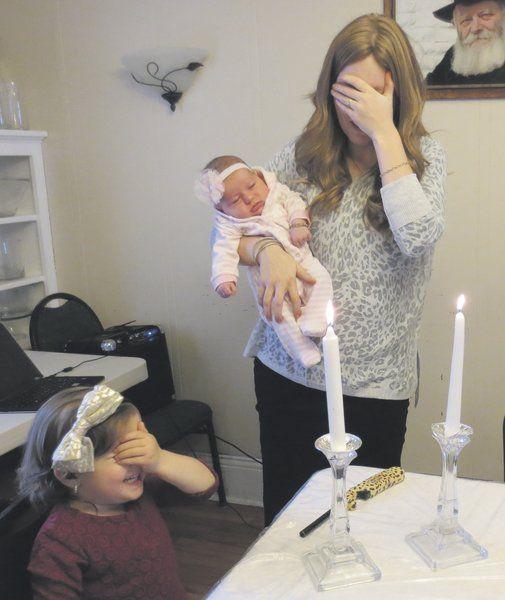 The women and men are divided. Fraidy and the women begin with candle lighting. She covers her eyes and welcomes light into the home. "We also teach the children at a young age the importance of giving," Fraidy said. Coins are dropped into a box, the pushke, to collect and give to the poor.
The rabbi goes into the other room with the men for prayer.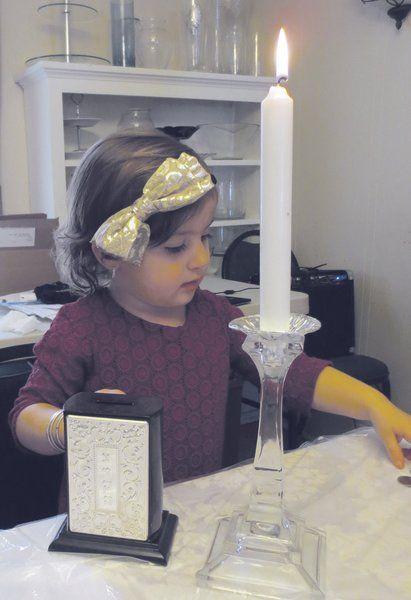 "Then we eat," Fraidy said. Students volunteer to help serve warm challah bread, all types of salads and dips, piping-hot chicken Matzoh ball soup, tantalizing chicken, kugel and endless desserts.
Added to the feasting is singing, prayer reading (in Hebrew), and a mini-talk from the rabbi on a subject grounded in the Torah. There is no reluctance to voice aloud at high decibels the prayers.
During a Shabbat celebration last month, State University Oneonta alumna Jillian Vell, 23, visited. "My sister, Samantha, also came because tonight has an Israel theme," Vell said.
"We grew up with a Jewish mother and non-Jewish father," Vell said, seemingly undaunted by different spiritual paths. "When growing up, I chose to attend Jewish school, my sister chose public school. When we went to college, I came to Oneonta and became involved in the Hillel Jewish organization on campus, and was happy when the Chabad Center opened."
Vell remembered a year when college was still in session during Hanukkah. The Chabad Center worked with Hillel at Oneonta State and other groups to light a large menorah on campus. She said "It was fantastic. About 200 people came. We had prayers, doughnuts and cider. Dr. Steve Perry and Dean Dr. Susan Turell were there."
Chabad Oneonta also hosts Girls Night In, Boys Night Out, ski trips, cosmic dodgeball, Passover Seders, and more. In the summer months, Rabbi Meir leads a tour group to Israel. Funding comes from tax-deuctible donations and planned giving. It is Chabad policy that each center is self-supporting.
Also part of the vital Jewish culture in Oneonta is Temple Beth El, at 83 Chestnut St., active since 1935. The new rabbi, Molly Karp, travels to Oneonta from New York City to lead services and classes.
Karp grew up on New York City's Lower East Side and attended 12 years of modern Orthodox day school in Manhattan. She has spent time working and studying in Israel. She graduated from Binghamton University with a Bachelor of Arts degree in Judaic studies and also earned a master's degree in religious education from the Reform Seminary in New York. 
Karp spent 10 years in doctoral studies in Hebrew Bible at Jewish Theological Seminary in New York, before being ordained as a rabbi after some years of study at the Academy for Jewish Religion in Riverdale. When not in Oneonta, Karp serves as a faculty member and director of student life at the Ivry Prozdor High School of the Jewish Theological Seminary, as well as teaching Torah, Hebrew Bible and Judaism to teens and adults in a wide variety of venues.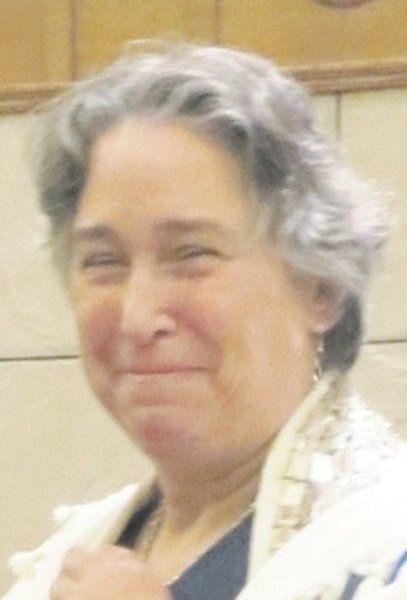 Members at Temple Beth El welcome visitors and answer questions, happy to direct you to events that suit your style. Karp is teaching "Maimonides: The Renaissance Man of the Jewish People" on specific Saturdays (Shabbat Lunch and Learn). For details, check www.templebetheloneonta.org. Religious school, Hebrew classes, and Torah study are also offered. Men's and women's clubs meet regularly. Music and choir are part of the services.
A special Shabbat service was held Nov. 21 to celebrate college students who devoted their time to teaching in the religious school. They stood under a canopy as heartening music rang through the sanctuary. The rabbi also presented the children with birthday candy bars, bringing smiles. She led the audience in Hebrew songs and prayer.
The family-friendly environment embraces people of all ages. In respect to tradition, Kippahs or Yarmulkes, and prayer shawls are available for visitors and participants.
While the Chabad and Temple offer different things for different people, they each offer a look at Jewish traditions to those who are interested in learning more.