Don't feel bad if you want to giggle upon seeing Sven Anderson's digital artwork titled "Waldo Crossing the Alps." The artist, who has swapped out Napoleon's face for his own, and replaced the Little Corporal's trusty steed with an image of his Labrador retriever, Waldo, clearly has a sense of humor.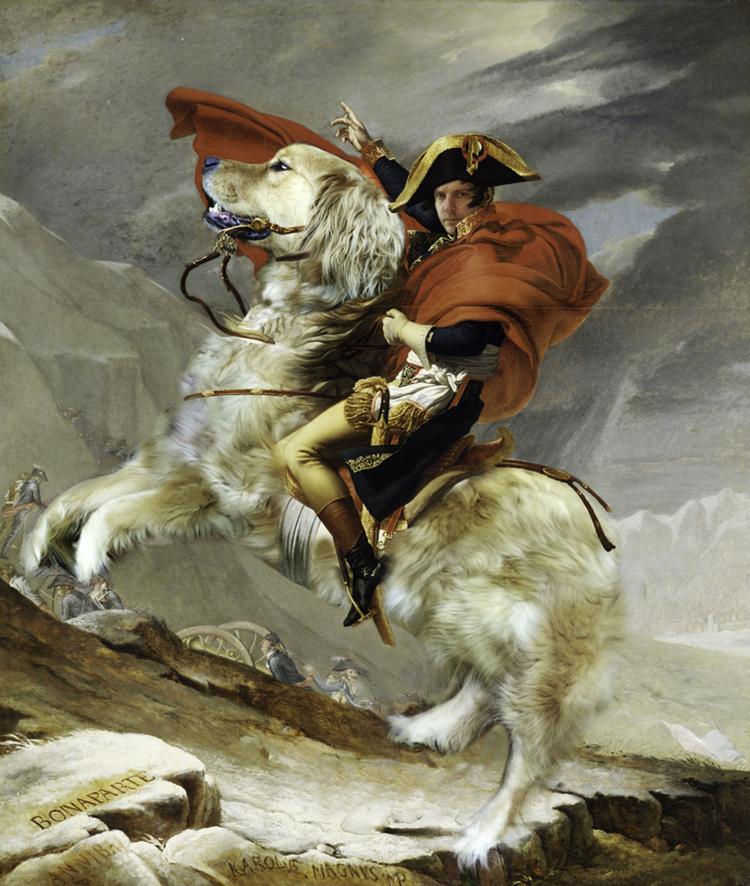 The work is one of several digital images that put the artist, literally, in the middle of an Old Master paintings. As he wrote in his artist's statement, "I have painted myself through the eyes of those masters that speak through the ages and continue to inspire me." 
Anderson's work is on view through Dec. 12 at the Martin-Mullen Art Gallery at the State University College at Oneonta in an exhibit titled "Sinking Into Obscurity." 
In his statement, Anderson writes, "As an artist, I have a far greater chance of getting funding for a project about eating glazed donuts nude while wearing a sailor's hat and rowing a red wagon through Times Square than I do for creating a portfolio of landscape photographs."
And yet Anderson has created a portfolio of landscape photographs, which are part of this exhibit as well; "colorful, vivid landscapes from many of America's national park s caught in singular light," as a media release from the college describes them. 
But according to Anderson, these, too, are borne of a certain desperation. 
"I think it is my responsibility to show people why our National Parks are worth preserving," Anderson writes in his artist's statement. "If they don't see it, how can they know? ... They don't know what they are missing unless we show them. If we don't act to save them now, they will sink into obscurity."