Inspired by the vast musical culture of New Orleans, this year's "Brooklyn Comes Alive" will be held on March 21 at one of New York City's most popular venues, Avant Gardner. Fusing the musical talent of Brooklyn's neighborhoods and the idea of live improvisation and collaboration from music of New Orleans, fans and attendees are in for stupendous day of amazing music from a wide array of talented musicians and producers.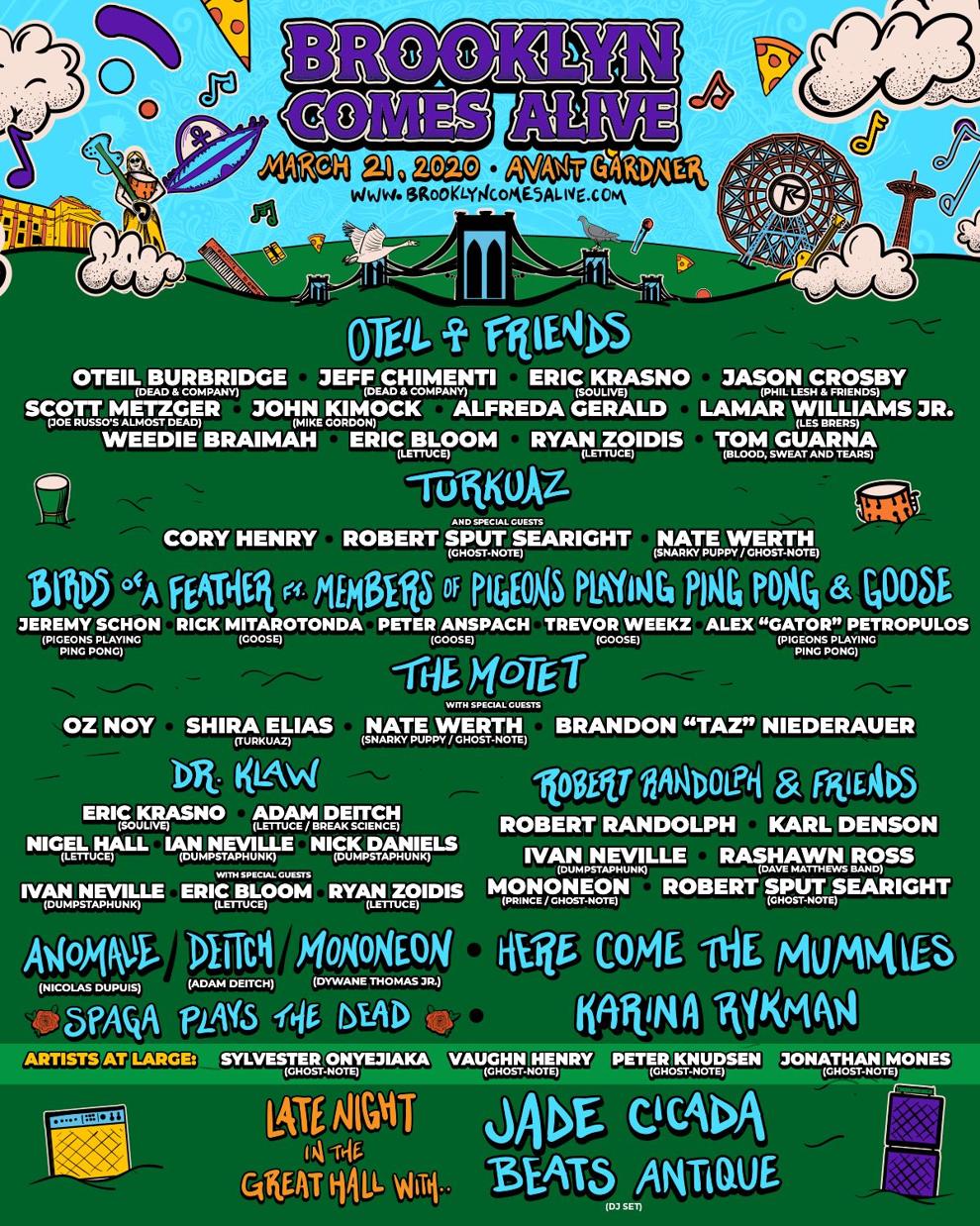 "Brooklyn Comes Alive" was created in 2015 by Kunj Shah and Justin Charles, the originators of the media and events company, Live For Live Music.The idea of concocting improvised sets among talented musicians rather than having solely pre-set touring bands on the lineup makes this festival unique.
Avant Gardner has become one of the most sought-after music and event venues in New York City. BCA will be held in the Great Hall and Kings Hall of the multi-stage venue. The 80,000- square-foot complex consists of four venues that can be individually used for different settings or can all be used together to make it the second largest entertainment venue in Brooklyn.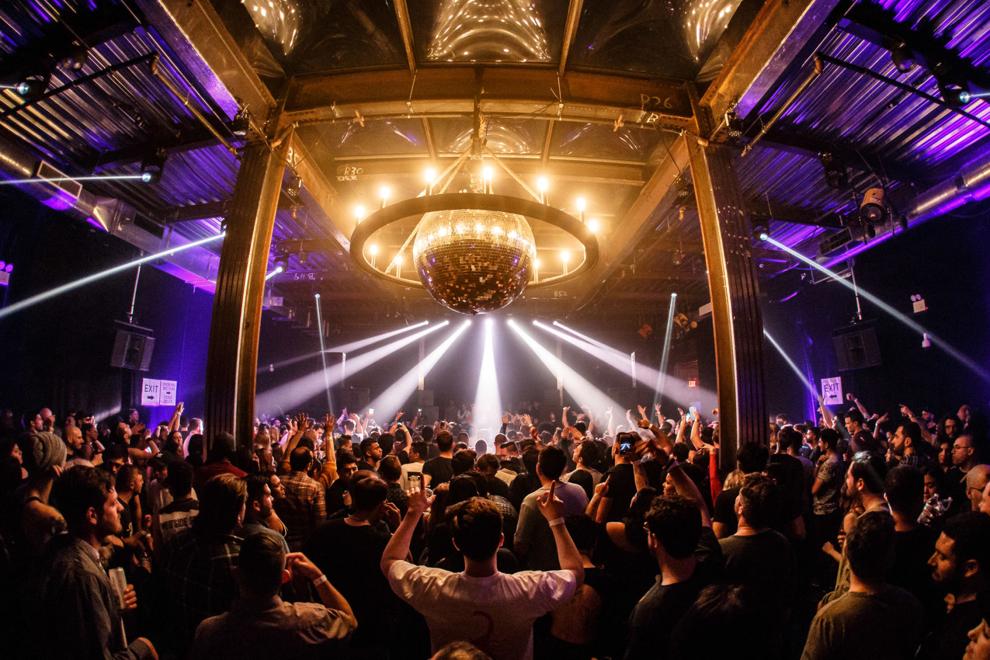 King's Hall @ Avant Gardner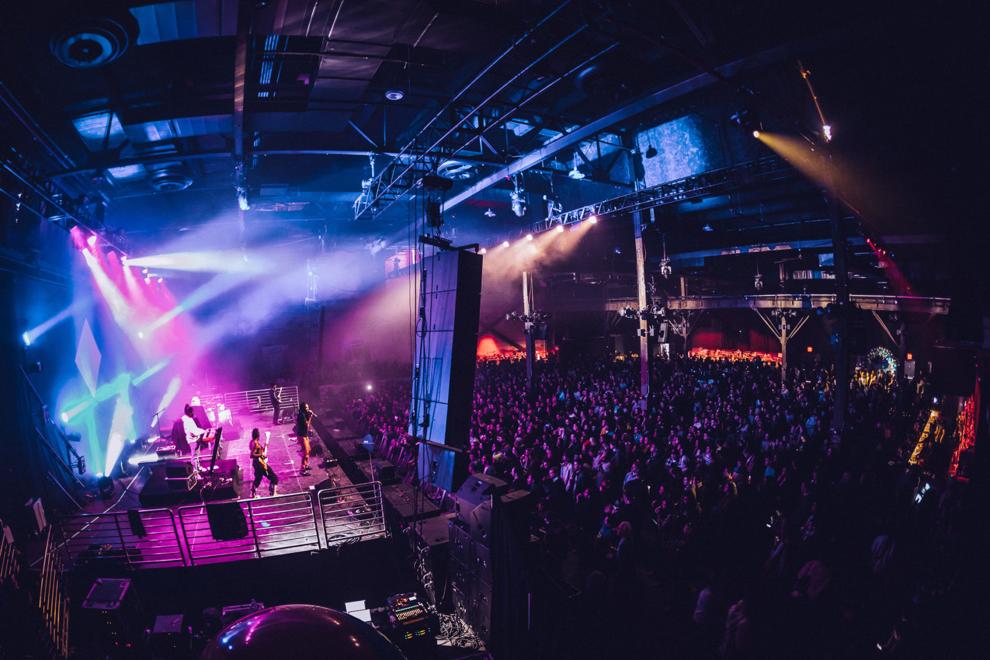 The Great Hall @ Avant Gardner
The lineup consists of Oteil & Friends (Oteil Burbridge - Dead & Co.), Turkuaz with special guests (currently on their Kuadrochrome Tour), Birds of a Feather (featuring members of Pigeons Playing Ping Pong & Goose), The Motet with special guests, Dr. Klaw, Robert Randolph & Friends, Anomalie/Deitch/Mononeon, Here Come The Mummies, Spaga Plays the Dead and Karina Rykman. Among all the bands, there will be a bunch of talented musicians filling in sets with each other. Stick around late-night to catch Jade Cicada & Beats Antique (DJ Set) in the Great Hall!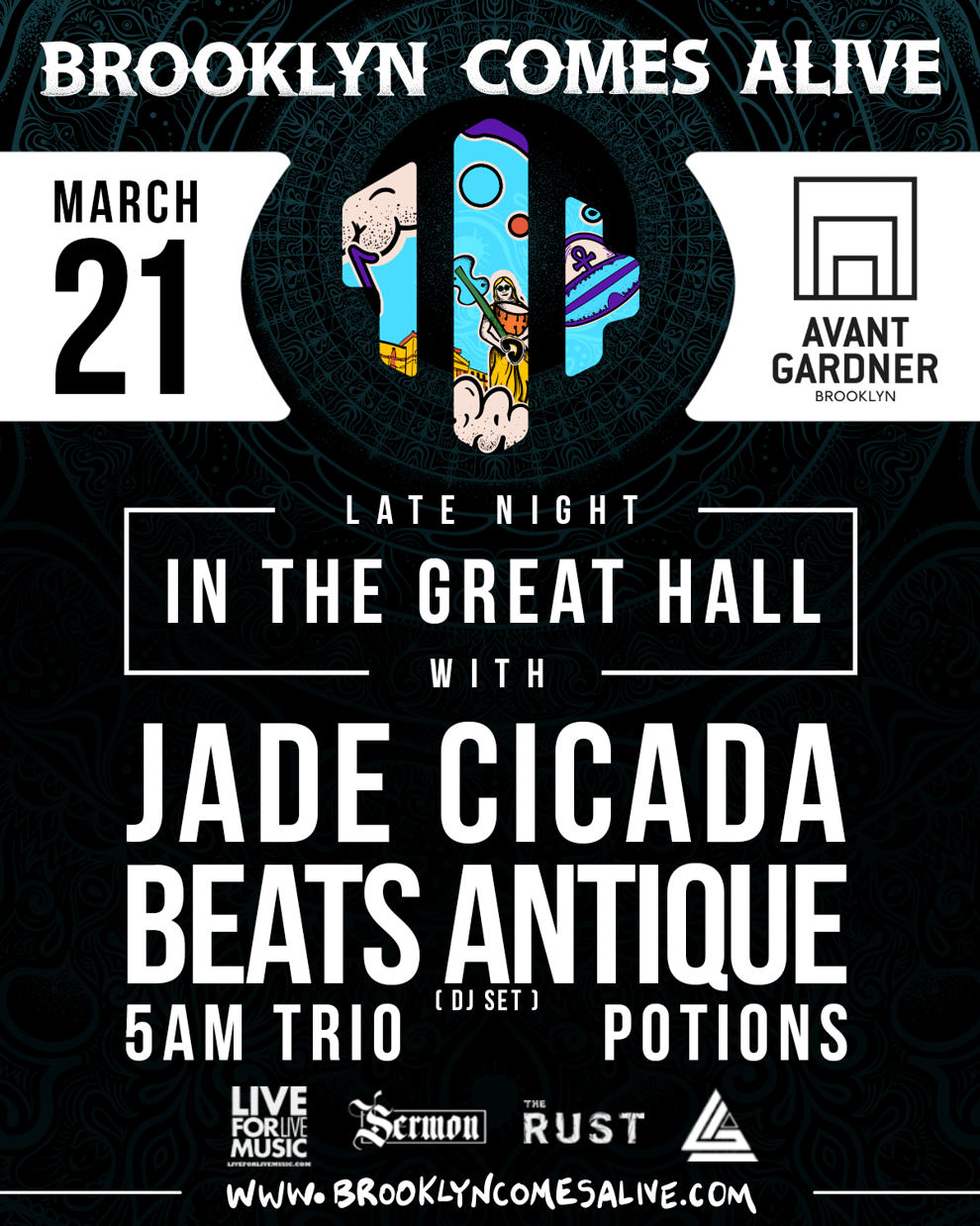 We had the opportunity to talk with a couple of special people involved with this year's Brooklyn Comes Alive to get a better idea of what the festival is about and what to expect.
---
Interview with Dave Brandwein - Vox & Guitarist of Turkuaz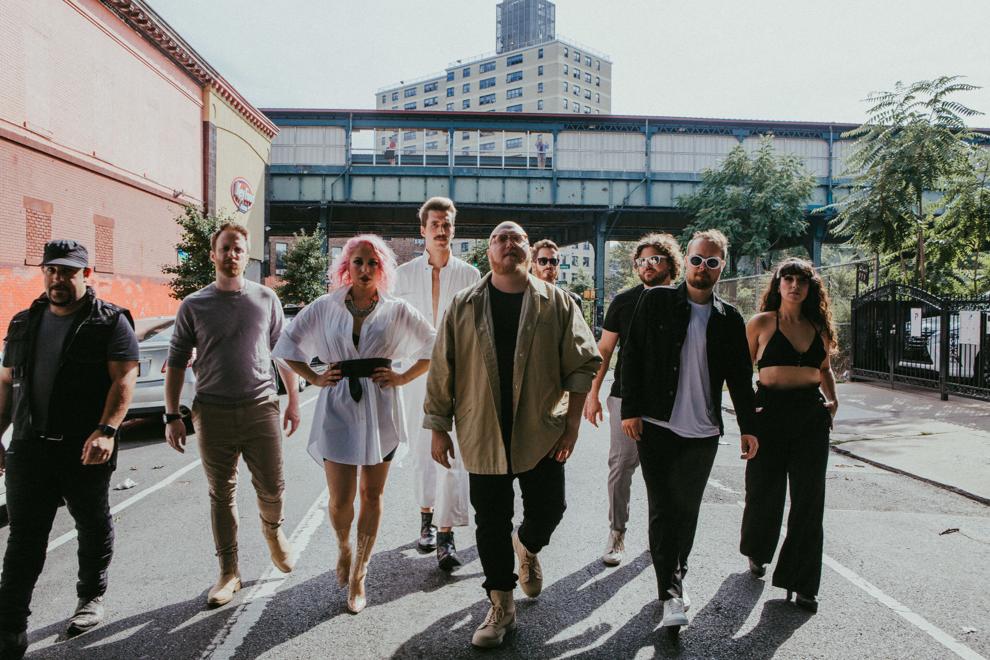 Dave Brandwein (Center-Right in Boots) | Photo Credit: Dani Brandwein 
Lonny: Hey Dave! How's it going? Thank you for taking the time to talk with us! We're definitely excited to catch you and Turkuaz in a couple of weeks at Brooklyn Comes Alive! I wanted to ask how Turkuaz first started off and how all nine of you met? Where did the name come from?
Dave: Hey man! Yeah sure! Taylor (Shell, bass) and I met in college in Boston at Berkelee and we were just making some recordings for fun, not for any particular reason. Whenever we got together and played music, it was always funk or dance music and we didn't really have any recording projects that represented that music. We were working on a bunch of other projects in our home studio up there. We kind of just "holed up" in that home studio and didn't really go out too much other than to go across the street to this Turkish market. At the time, it was probably either for cigarettes or for this Fanta soda that was different than the American Fanta that we loved. The market was called Turkuaz Market, so that's where the name comes from. The demos we made got passed over to the Berklee College of Music's Label and they really liked them and asked us to put together a showcase. We called a few friends up who were in the music scene with us, so we knew who we wanted. We did it for that showcase and then we kept going. We didn't really start touring for several years after that. We went down to NYC and played shows around there, but around 2012 is when we started to hit the road and try to get ourselves out there.
Lonny: So, you guys met in Boston and are now out of Brooklyn?
Dave: A few months after our first performance in Boston, we moved down to New York City and that's where we incubated basically for four years. We were just playing the New York City scene and we started playing some occasional festivals, which opened our eyes to want to start touring the country and gaining exposure. Playing New York Cityis great and everything, but it was like our training ground.
Lonny: How was the initial response from audiences, and did you start the color scheme thing back then?
Dave: That started in late 2014, although we did have jumpsuits. We did a bunch of different things. The reaction when we first started out was definitely awesome. We'd go out to a place and play to like 40 people then come back the next time and play to 100 people. We did that in almost every city and cycled through the country and slowly worked our way up. The color thing was a little late, my wife had originally found us different colored jumpsuits and we used that in the early days. In 2014, we released an EP called Stereochrome and we all dressed in black and white. After that tour, we switched back to color for Digitonium. We did the colors for like five years after that point.
Lonny: Could you tell us what got you into music and who your influences were growing up? How did you learn guitar?
Dave: When I was younger, I was really into classical music and played piano. I wasn't a prodigy or anything but I was average and was always excited about music. I stopped for a little but then around seventh or eighth grade, I picked up a guitar and got obsessed with The Beatles; I went through the whole chord book and took guitar lessons from my elementary school teacher. So, between that and learning all The Beatles stuff is how I learned theory and guitar simultaneously. I started playing in bands throughout high school, through Berklee and was huge into all British Classic Rock — think Beatles, Pink Floyd, The Who and Led Zeppelin. That was basically my entrance into guitar and songwriting.
Lonny: What was your favorite thing about the Firebird?
Dave: Ha, ha. When I got to school, I didn't really have the nicest guitar and everyone else had some beautiful instruments. My friend had this Firebird and he took it out. I picked it up and couldn't believe what a different kind of beast it was. It looked awesome and made a statement and it caught my eye. My friend ended up playing organ a lot and stopped playing guitar and I offered to buy it from him and I did. That was pretty much it. I ended up with a few other guitars I use at the studio but for whatever reason, the Firebird works really well for me for Turkuaz.
Lonny: Definitely, the look of the guitar goes well with the whole imagery of the band and is definitely different than what everyone else is playing.
Dave: Yeah, it's definitely not a typical funk guitar. I have a few other Firebirds, an SG that I really like to use in the studio. I also have this Fender Coronado which is my favorite studio guitar I have with a Bigsby and Gretsch pickups. I have a Mex Strat, some Hagstrom guitar along with a ton of other instruments and amps in the studio.
Lonny: I'm assuming you have a crazy pedal board setup?
Dave: Yeah, definitely. In the early, early days, I didn't use any pedals and I was really proud of that for some reason. That broke a while ago and I'm pretty big into the pedal game now.
Lonny: Once you start you can't stop.
Dave: Yeah and as our recordings got more ambitious along with figuring out how to perform studio creations in a live setting, I had to seriously expand my pedalboard.
Lonny: You guys just released a killer EP, "Kuadrochrome," last year and just dropped a music video for "Heat Drop"last week. Could you tell us what you guys have done differently for this album and what it was like making the video?
Dave: The last two full-length albums have been more of a neo-centric process in terms of writing, going from a more production-based angle rather than just having the live band as the rhythm section. We just keep trying new ideas and try to keep it fresh while expanding our horizons. I thought we should do a release that brings us back to more "soul-oriented" roots which is just us getting together in a room and playing. "Stereochrome" was exactly that. I had this idea, "I wanna do another four songs like that", like a sequel so we did "Kuadrochrome". After the five years of the color, it was a cool and logical transition to go to a four-color scheme. We're definitely going to continue to explore different kinds of music we make and try new things but this was a little "pit stop" back into that R&B/soul direction. We also used a ton of vintage gear that was made pre-'70s, which gave it the sound and tone we wanted. The compositions and arrangements were an old-school vibe but having gear to go along definitely complements it. The song "Heat Drop'' is actually about anger and people are like "Wow, that's dark." Our music is usually upbeat and happy, but I try to put some darker things over the music to create contrast. My wife, Dani, directed the video. Jay Sansone, from Human Being, was our DP and our buddy, Rob Kennedy, was the editor. John Coltide did the visual effects so we had an awesome team helping out and was definitely awesome to have this group of friends be able to help us out knowing what direction we wanted along with the creative process. Everything went very smoothly and we had a blast making it!
Turkuaz - Heat Drop
Lonny: Back to the festival, it must be nice to play where you are based out of. What are you most excited for at Brooklyn Comes Alive?
Dave: I've never been to one before, I know some other band members have played it before,   but I'm excited to see the event, and I've never been to Avant Gardner before either. It sounds pretty cool and I've heard great things about the place. In addition to the fact that we haven't played for seven weeks, which is the longest break we've ever taken, it'll be exciting to get back up on stage and play again. We have some amazing musicians joining us — Sput, Nate Werth and Cory Henry will be sitting in for portions of the set. It's always fun to get other people up there and those are some of the best musicians out there, so we're honored to have them playing with us.
Lonny: Is it difficult getting 10-plus people to play in time with each other? I know you're all professional and know what you're doing but is there any difficulty in hearing each other?
Dave: Ah not really, as long as everyone knows what they're supposed to be playing. The hardest part is being able to hear everyone clearly. Most of us, if not all of us, use in-ear monitors. We have our own mix so we can hear the things we need to hear. I play a lot of rhythm guitar, so I always have that hi-hat turned up high so I can lock in with Mikey (Carubba, drums) and stay in time.
Lonny: Are there any special sets you are most excited for besides yours?
Dave: The guys from Ghost-Note and Oteil & Friends are gonna be amazing. We're good buddies with the Motet. Every act is gonna be awesome so I'm stoked to see what's in store!
Lonny: What have you been listening to at home?
Dave: Unfortunately, I have not really had time to sit down to just enjoy music in a while. I've been so busy with creating music and working on music that, in my downtime, I'm just unwinding in other ways. I have been on a big '80s kick — Roxy Music and Tears for Fears. The funk world '80s stuff — Prince, Morris Day & The Time, Peter Gabriel and Talking Heads. I feel like in the '90s, the '80s were considered so cheesy but now, it's become hip again. Pop, funk and any '80s music besides hair bands.
Lonny: Ha, ha, yeah I think that might be dead now.
Dave: I love Van Halen but nothing too crazy. Whenever I'm cleaning around my house, I usually put on some classic '80s record.
Lonny: And is Galaxy Smith Studios yours specifically?
Dave: Yeah, for years I had a studio up in Greenpoint and now I'm down in Bushwick. It's where we do not all, but a lot of our recordings. Recording is kind of my first love, even more than performing live. I'm always looking for new ways for us to approach stuff in the studio. I recently produced some stuff with my buddy, Rob, from Nashville for a band called Wild Adriatic late last year. I have kind of slowed down on producing other bands temporarily so I can work on Turkuaz music and my own material. I'm kind of taking this year to focus on my own music. With many years of running a studio, I've been able to do almost everything but that. Whenever we play with awesome bands, I always invite them over to do some recording, too!
Lonny: I first saw you guys back in 2017 upstate at Disc Jam and you guys blew me away. Since then, I've only seen Turkuaz playing larger shows and coming with great material. You're also in the middle of your "Kuadrochrome" Tour — can you tell us what is in store for Turkuaz in the next couple of years?
Dave: I'm not sure about anything over the next few years but in the immediate future, we're going to be doing a "Remain in Light" tour with Jerry Harrison and Adrian Belew, two guys who were original members of The Talking Heads. We'll be doing a tour of Talking Heads music, not only "Remain in Light," but some stuff beyond that as well. Working on a ton of new stuff in the studio, too, which will be released later this year or early next year. We would love to do some more international stuff; we went to Australia and Japan recently and that was awesome. Starting to go international was different than playing the U.S. so we want to keep expanding!
---
Interview with Gideon Plotnicki - 2020 Brooklyn Comes Alive's Producer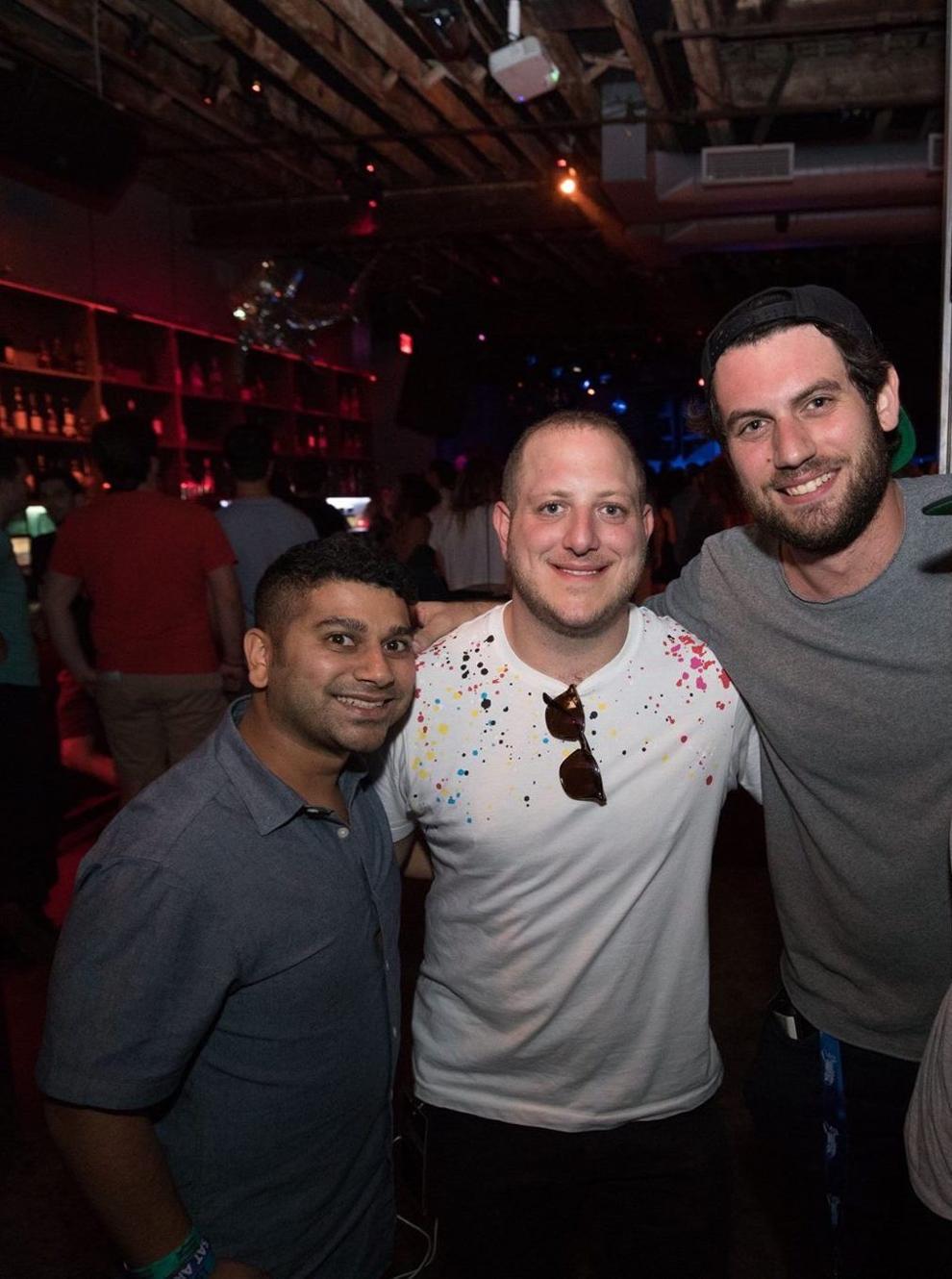 Kunj Shah, Gideon Plotnicki, and Justin Charles at Brooklyn Comes Alive 2018
Lonny: Hey Gideon! How's it going? Thank you for taking the time out of your day to talk with us! I wanted to first ask how you got involved with music and eventually how you became involved with Brooklyn Comes Alive?
Gideon: Hey Lonny, it's going great, thanks for asking. I have been involved in music for most of my life, pretty much as long as I can remember. For many years, my dad owned and operated several independent record labels, so I grew up around the industry. My first personal taste of the business came toward the end of college when I started managing a band called Haakon's Fault. When they broke up in 2011, I started focusing on putting on concerts and events.
In 2016, I started working for Live For Live Music, a media and events company whose founders, Kunj Shah and Justin Charles, came up with the concept for Brooklyn Comes Alive. I was involved in more of a support role in my first year, but in 2017 I got more involved with programming the talent, and in 2018 I stepped into the role of director of operations for the festival. For this edition of Brooklyn Comes Alive in 2020, I'm the festival's producer and curator — although Shah and Charles are both still actively involved, and their fingerprints are all over the festival's lineup!
Lonny: How many years has Brooklyn Comes Alive taken place? Can you tell us a little about how the idea of an unprecedented music festival of this magnitude came to be?
Gideon: This is the fifth edition of Brooklyn Comes Alive. The event took place at various clubs and music venues in Williamsburg, Brooklyn, from 2015 to 2018, and after taking a year off, we are moving the event to New York City's most popular new venue, Avant Gardner, located in the Bushwick neighborhood of Brooklyn.
The concept of Brooklyn Comes Alive was inspired by the vibrant musical culture of New Orleans, especially during the New Orleans Jazz & Heritage Festival. If you've never been to Jazz Fest, it's one of the most special events in the world, and the late-night scene is truly unlike anything else. Artists perform in unique formations, stepping outside of their typical band structures and collaborating with their friends, influences and musical icons. It's a really special vibe. Since Brooklyn has its own, I don't want to say "similar" culture, but its own unique culture of collaboration and improvisation, it seemed like a great fit to combine the two scenes into one special event.
Lonny: What makes Brooklyn Comes Alive unique compared to other single-day festivals? I know in the past, it has taken place over two days, why the change to one day this year?
Gideon: So, Brooklyn Comes Alive was a two-day event in 2017, but other than that it's always been a one-day event.
What makes BCA unique is its focus on collaborations. In the past, we haven't featured many regularly touring bands on our lineup; the lineup was all side-projects, tribute sets or special groups of musicians that we worked with the artists to curate.
While this year's event features several nationally touring bands, the concept is still the same: to create a once-in-a-lifetime live music experience for our audience. We accomplish that in many ways, but that's always been the chief concern as we're putting our lineup together. We want as many of the acts as possible to feel curated and special, something you can only experience at Brooklyn Comes Alive.
Lonny: I believe I have seen "Denver Comes Alive" as well, so are there other cities where this same type of collaborative festival is put on trying to showcase their local music cultures and artists?
Gideon: We did put on Denver Comes Alive in January at the Mission Ballroom in Denver, Colorado. It was an unforgettable night. Oteil & Friends also headlined that one, alongside a very special tribute to New Orleans icons Dr. John & Art Neville, a one-off collaboration between Soulive and Ghost-Note called "Ghost-Live," and a set from Star Kitchen with many special guests. The Denver music community came out in full force to sell out the venue — the city has one of the most (if not the most) powerful music scenes in the country right now — and we were so thrilled to get such a positive response from them on Denver Comes Alive.
 As of now, we have no plans for a "Comes Alive" event in any other city, but you never know what might happen down the road!
Lonny: In past years, the music was held across several different venues, correct? What caused the change from three venues and now into one huge venue at Avant Gardner this year?
Gideon: We're switching formats this year for a variety of reasons. First of all, having an event happening simultaneously at three different venues with different capacities has its challenges. The festival team, artists, and fans were constantly running around Williamsburg, and were forced to make tough decisions about what sets they wanted to see. It was really fun, but also challenging.
Additionally, at our most recent version of BCA, it became apparent that the flow of the event was being impacted by all three of our venues hitting capacity at different points in the night.
Perhaps most importantly, at previous versions of the event, we weren't ever able to have one true "main stage." Over the years, Brooklyn Bowl and Music Hall of Williamsburg became our de facto main stages, and we always had to program each venue equally. If we hit capacity at Brooklyn Bowl, you could always get into Music Hall of Williamsburg for an equally special performance, and vice versa. With this year's move to Avant Gardner, we will never have that issue with the Great Hall as our main stage. The Great Hall is massive, and will allow us to have headlining performances that our audience can experience together. We want everyone to be able to experience the most special moments of Brooklyn Comes Alive, and Avant Gardner will allow us to achieve that.
Lonny: The lineup seems to mainly be of the "jam band scene" with Jade Cicada and Beats Antique closing the night out with more of the electronic side. Has this always been a "jammier" festival in the past or tried to keep a fair balance of genres?
Gideon: Brooklyn Comes Alive has always focused on a variety of genres. The event may be rooted in jam, funk, and jazz, but there's always been a presence of electronic music and hip-hop at the event. In the past, we've had acts such as The Crystal Method and DJ Premier & His Badder Band perform late-night sets, and we've had electronic artist Manic Focus perform with a live band, featured collaborations such as [Br]eaking [Bi]scuits (members of The Disco Biscuits & Break Science), and put on a tribute to iconic hip-hop producer J Dilla.
Anomalie is one act on this year's lineup that bridges that gap. He is an artist that meshes electronic music, jazz, and funk, and we jumped at the chance to work with him this year. It's the first time he's kind of stepped out of his comfort zone to improvise with other live musicians in this way, and that's what we strive for at Brooklyn Comes Alive. We try and focus the emphasis on a unique live music experience, regardless of genre.
We are very excited to have Jade Cicada and Beats Antique on the bill this year. Jade Cicada is one of the most exciting rising stars in electronic music, and Beats Antique is one of the pillars of the crossover between electronic music, world music, and improvisational music. Avant Gardner is one of the most popular venues in the world right now for electronic music, and we wanted to connect with their audience and weave that culture into our existing crowd of sophisticated and knowledgeable live music lovers.
That being said, we will have your more typical Brooklyn Comes Alive funk and jam music going late-night in the Kings Hall, so there will be something for everyone when it comes to the late-night portion of the event.
Lonny: Aside from amazing musical performances across a vast array of genres and musicians from all over, can you tell us about anything else in store?
Gideon: Avant Gardner is a really unique venue, and Brooklyn Comes Alive will be the first festival-style event in our genre(s) to take place there. It will be really great to expose the Brooklyn Comes Alive audience to this special space that is seemingly built just for this.
Personally, I'm excited that everyone will be able to be together at this year's event. When Oteil & Friends hit the stage with this once-in-a-lifetime lineup, the entire audience will be able to enjoy that. When Pigeons Playing Ping Pong & Goose debut their new collaboration, 'Birds of a Feather,' the entire crowd will be able to witness that. It's going to make for some really special moments.
Lonny:  Who are you most excited to see on this year's line up?
Gideon: Wow, it's really hard to pick one act here. Having worked so closely with many of the artists and their teams to build this lineup, I'm excited about it all!
Robert Randolph & Friends sticks out, I can't wait to see him perform alongside other legendary artists like Ivan Neville and Karl Denson. Anomalie's set with Adam Deitch (of Lettuce and Break Science) and Mononeon (of Ghost-Note) is going to be excellent. Turkuaz is based in Brooklyn and they will be debuting their new live show in their hometown for the first time at Brooklyn Comes Alive; that will be very special.
Lonny: Thank you, Gideon, for your time and for all of your hard work in helping make this festival possible! Is there anything else you would like to let us know?
Gideon: Just know that fans are in for a full day of incredible music across the board!
---
To Give You An Idea:
Oteil & Friends - Jessica @ Lock'n 2019
Turkuaz  - "The Shape I'm In"  @ #JAMINTHEVAN
Pigeons Playing Ping Pong - "Lightning" Feat. Rick and Peter of Goose live in SF 2/15/20
The Motet - Contagious - 2/28/2020 - Paste Studio ATL - Atlanta, GA
Jade Cicada - Fish Juice 
---
 Hope to see you there!
For more information, please visit: brooklyncomesalive.com
Tickets are available here: brooklyncomesalive.com/tickets
Facebook Event: facebook.com/events/2568240646584917/
Instagram: instagram.com/brooklyncomesalive/?hl=en