Memorial Day weekend is naturally looked forward to by all as the start of summer, and to festival-goers, the official start of the summer music festival season.  Lucky for us, we don't have to go far, as the East Coast's premier music and arts festival is practically a stone's throw away.
From May 22 to 25, we will have the pleasure of visiting the fourth year of the ever-successful and the fastest growing East Coast music event, Elements Music and Arts Festival, curated by New York's BangOn! NYC.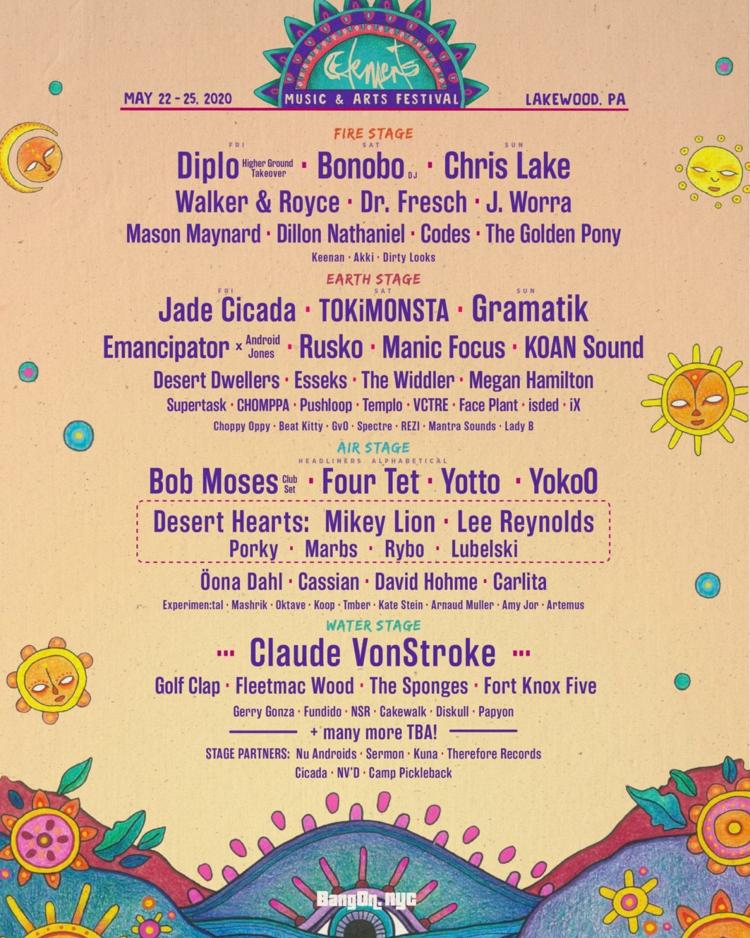 BangOn! is known throughout the massive underground music community as an authority on underground culture. It has been giving the community a platform for almost a decade. 
Every year, the BangOn! team seems to one-up itself. What started as a one-day festival in Red Hook, Brooklyn, has morphed and evolved into the three-day freaky, fun-filled, mystical, adult sleep away summer camp, we all love and know as Elements Music and Arts Festival. 
In the past, Elements has brought out some heavy hitters such as Tipper, Ott, Big Gigantic, Disclosure, Fisher, Shpongle and Rezz.
This year's ground-breaking lineup features artists such as Diplo, Bonobo, Four Tet, TOKiMONSTA, Chris Lake, Gramatik, Claude VonStroke and more than 100 more acts. They can all be found bringing unmatched energy to the venue of 150 acres of picturesque Pennsylvanian land, about two hours outside NYC and a little over an hour from Oneonta. 
"Festivalgoers can dance from dusk until dawn, journey through immersive environments, take a dip in the serene lake, indulge in delicious eats from craft vendors, or hit reset with a meditative sound bath or expert-led yoga class," said Brett Herman, co-founder and managing director at BangOn!NYC. 
What else can Elements guests expect? Well, I hope you have a minute because, BangOn! has a lot to offer :
Music for tastemakers — tomorrow's relevant electronic
Immersive stages — Earth, Air, Fire and Water stages along with dozens of community-produced stages .
Larger than life art — dozens of large-scale art installations, live performances and multi-sensory interactive experiences.
The ideal destination — Accessible destination for all major metro areas in the Northeast
Diverse scenery — From expansive beachfront to an enchanted forest to rolling hills, every summer activity is within reach inside the 150 acres of diverse landscape
Special programming  — A packed schedule of risque programs and playful workshops
A reconfigured campground  — Sprawling villages that consist of a variety of tents and makeshift homes that bring to life a small world
A first for all is the new "Vibe Villages" concept
If that isn't your cup of tea, feel free to bring an RV or book a spot in one of the on-location cabins or apartments. Elements has a little something for everyone!
Who you must see:
Gramatik, Yoto, Bob Moses, the Desert Hearts crew, Claude Von Stroke, Codes, Bonobo, The Golden Pony, Golf Clap, Dr. Fresch and Walker & Royce.
What you must do:
Check out the Health and Wellness programs to get a break from the music (if you must)
Take a swim with the pirate ship in the lake!
Explore some of the secret stages
... And buy tickets now! 
Three-day and VIP passes for Elements Lakewood 2020 are available now at elementsfest.us. Festival-goers can choose from a variety of accommodation options including camping, Glamping Village packages for up to eight people, as well as private cabins, apartments and bungalows for up to 20 people. For those traveling from Boston, New York City, Philadelphia, and Washington D.C., attendees can access Elements Lakewood via transportation partner Bus.com.