Walking into The B Side is like walking into the bar from "Cheers" — it's a place where everyone knows your name. I decided to take a night to enjoy one of my favorite bands The Mopar Cams (with front-man Mark Pawkett on lead guitar and vocals along with Pete Piscitelli on bass and Emmet Rozelle on drums), and I got so much more out of it than the rockabilly-style music that drew me there and kept me dancing.
I was intrigued by the amount of people who were not only super excited to support local musicians, but were also out to just be with more familiar faces that always bring them such great joy. On my way down I like to swing through The Black Oak Tavern and catch up with old friends there. The Black Oak not only offers a great variety of drinks as well as a couple of pool tables, they almost always have the style of music I love emitting from the state-of-the-art jukebox that makes it hard to leave.
I ran into Robert "Shelly" Shelton (owner) who was also headed to the B Side. A friend and fellow enthusiast for music (especially local), he stated in jest that it was "cheaper to pay $20 (well over the actual cover price at the B Side) to see Mark Pawkett's band there than to pay them $300 to play at my bar."
Joking aside, Shelly said he wants other establishments to remember it is worth paying bands what they are worth, at the very least what they ask for. Just think about the price of equipment, the cost of transportation, the many hours the bandmates put into practicing, any promotional material they purchase and put out there, and so much more.
Shelly said he loves supporting music, especially locally. "It's so great to have it and we need to keep them coming," he said. He reminded me of the passion musicians have for their art and what they put in it to keep us entertained, referring to the old saying that bands put out "$5,000 of equipment loaded into a $500 van for a $50 show to be split amongst 5 performers." So paying that few dollars is such a small price compared to the return it offers you and your community.
Walking into the door at the B Side is worth the trip just for a greeting and hopefully a hug from their head of security and crooner extraordinaire Steve Fabrizio. Steve is considered the fourth member of the Mopar Cams and is more than happy to step in and sing a few tunes. This time it was "Yakety Yak" and "Teenager in Love." Steve, who has hung with the likes of Frank Sinatra, can tell you some amazing tales about his times in New York City and beyond. The last time the Mopar Cams played, Steve, who loves and takes his jobs seriously, slid over to The Oak and belted out the tunes on a short break from his job at the B Side. We take our music seriously in Oneonta and it shows in a man like Steve Fabrizio.
After my lovely greeting at the door, I was pleased to see so many other people had the same idea that I had: good food, good drink, good music, good friends and great fun! A dancing partner and great friend and supporter of music in general, Liz Shannon, local Artisan, was ready to shake a tail feather. She had this to say: "Mopar Cams shows are always fun. Mark's wailing guitar combined with Pete and Emmet's solid bass and drum work creates high-energy music that lures me to the dance floor."
I turned around from a warm conversation with Liz and ran into Sean Bolger another guest singer for the Cams and former bandmate of theirs The Krisco Fist. He was invited back mostly due to the camaraderie and I believe his passionate style of singing that resonates through the crowd and gets everyone's blood pumping and shouting for more.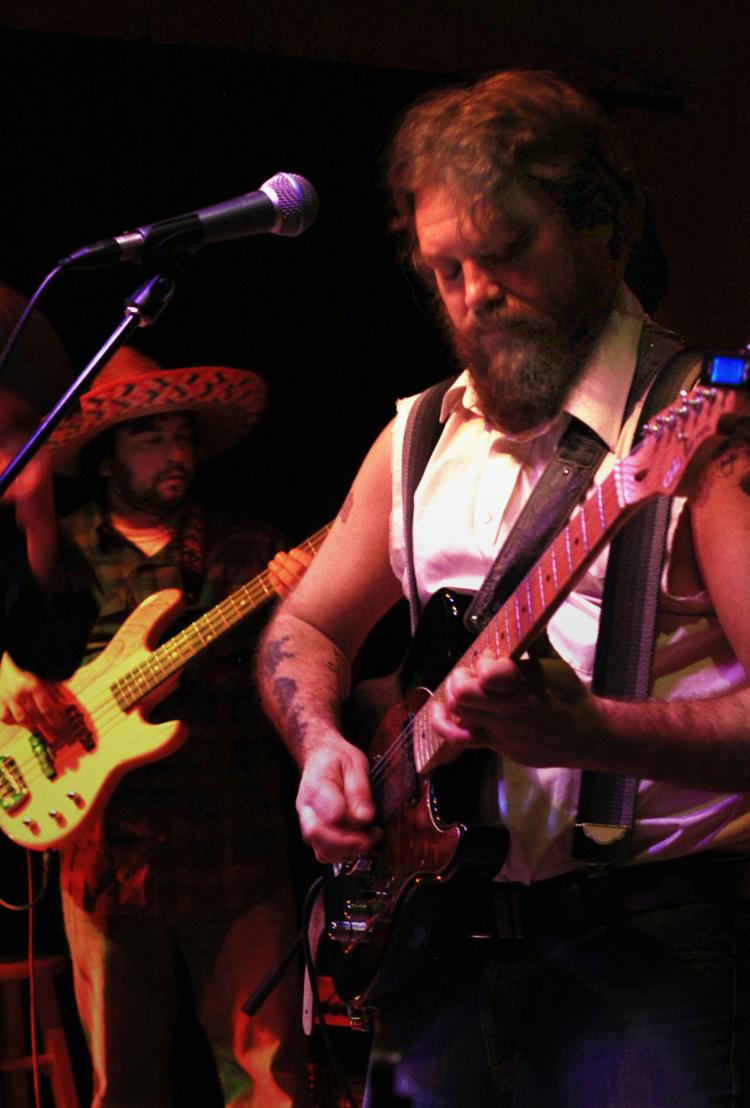 "Music is a passion of a lot of people around here and I'm glad to be a part of it once in a while," Sean said. A busy father of two who also spends a great deal of his time doing an excellent job at Brewery Ommegang as the store manager, Sean jumped in with the band and won the crowd over.
As I was headed to the bar to get a beverage from Rebecca Carrington, voted Oneonta's best Bartender by the Readers of The Daily Star, I stopped Wayne Carrington in his tracks. Of course it was a very busy night, and not wanting to take up too much of his time, I asked just for a moment.
Wayne remembered being told over and over that this type of bar would never work in Oneonta, but it has been the Best of the Best from Day One. And looking around at the large crowd, there was no doubt that it is doing a fine job indeed. As he was headed to work on sound for the band he left me with a quote from Duke Ellington, "There are only two kinds of music, good and bad." Take from that what you will, but I believe the chances of finding good music at a joint like this is hard to contest.
Headed back to the dance floor I ran into a prominent group of ladies, fresh from our local bookstore, The Green Toad. They were celebrating Jenny Mannion's new book "A Short Path to Change" and excited to see Mark's band at a favorite establishment. Leslie Ann Parmeter (you would recognize her voice on 103.1 WZOZ, Oneonta's local radio station) and Angela Deleski, events coordinator at SUNY Oneonta, reiterated their love for the B Side, the Carringtons (owners) for Mark and his band The Mopar Cams and again like most everybody to support the local music industry. Leslie Ann quipped that "The B Side is adult oriented and we love the bathrooms."
I worked my way to the kitchen to talk to Jake and Tim who were busy with a wide variety of food orders, from bar bites to full entrees. Tim appreciates being paid for something he loves to do and Jake loves his co-workers and the fact that so many of his friends come in. As Jake says "This is a real place, with real cocktails in the right glass and superb food. A place to go for people who live in this town with out being a college bar."
I let the kitchen boys get back to there work and ran into an old friend and staple of Oneonta, Eric Johnson. Eric and his family own The Autumn Cafe, another place that represents Oneonta's list of good solid places to eat and drink will be celebrating their 34th year in downtown. Without sounding too sappy, he described the B Side with these words, "I just like it because it's closer in radius and closer to my heart, because it is home and these are our friends and it is right here." Furthermore, regular patrons, Heather Fox and Jesse Philips were on the same page. The love for local music in a comfortable familiar atmosphere can not be beat.
As much as I love socializing, I loved the band. Mark Pawkett is an adjunct lecturer of guitar at SUNY Oneonta and has been for 17 years. Of late, he is the front man in the Mopar Cams, which focuses on a blend of classic and modern Rockabilly with heavy influences from psychobilly and classic country. The name was inspired by a Ween song and their music is inspired by the likings of Reverend Horton Heat and The Stray Cats.
Emmett Rozelle on drums and Peter Piscitelli on bass were former students of Mark's and played in The Mothers of Intention, an all-student band that rotates through students as the years roll by. The Mopar Cams have just released an album "Pin-ups R Us" that was recorded at Dryhill Studios. The seven-track album is available http://the-moparcams.bandcamp.com/releases.
After plenty of dancing, sharing, some food and drink and feeling the love, I headed home. On my way out I ran into Meg Gorel, a waitress since the kitchen opened 3 years ago. She said, in regards to the night's entertainment, "They probably would be a lot better if they weren't so goddamn ugly." Well, don't let that keep you away. The Mopar Cams will be at it again and the B Side is open 5 nights a week, Tuesday through Saturday, with special events to be announced.