After a one-year hiatus, Okeechobee Music & Arts Festival is back and, seemingly better than ever.
Founded in 2016, Okechobee brought Kendrick Lamar, Skrillex, Mumford & Sons, Future, Miguel, Fetty Wap and Big Grams (aka Big Boi from Outkast) to the stage.
2017 and 2018 were just as impressive, with artists Halsey, Bassnectar, Travis Scott and Arcade Fire as headlining acts.
Here's a little taste of what's in store for those flocking to Sunshine Grove.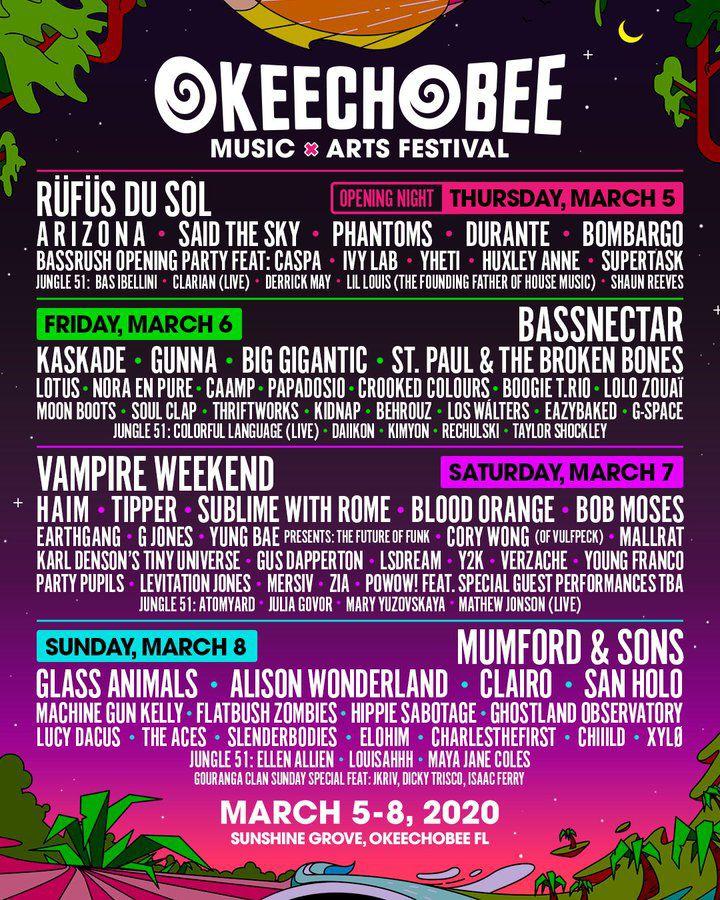 This is as big and diverse as Pasqual Rotella, founder of Insomniac, has promised.
Announced in July 2019, Insomniac acquired stake in Okeechobee and was charged the task of bringing a diversified 2020 lineup. Boy, it did not disappoint.
What else can we expect from the folks who bring us Electric Daisy Carnival all over the globe?
Electronic sensations including Rufus Du Sol, Big Gigantic, Kaskade, Bob Moses, Bassnectar and Dave Tipper keep the standing tradition of EDM offerings strong, while the diversifying additions of artists including Glass Animals, Mumford & Sons and Vampire Weekend stir up the pot.
This festival has sold out in the past. Tickets are available through pre-sale and will be open to the public on Friday, October 18th!